Released: 27/03/2020 – 12:59 GMT
RNS Number: 9092H
Kedrion S.p.A.
Castelvecchio Pascoli (Lucca, Italy), 27 March 2020 – The Board of Directors of Kedrion S.p.A., a biopharmaceutical company that specializes in the development, production and distribution of plasma-derived therapies and in the collection of plasma, has today approved the draft individual financial statements and the consolidated financial statements for the fiscal year 2019.
The following key figures are on a consolidated basis.
The financial year was characterized by two main events: the first one is the FDA approval in February 2019 for the fractionation plant in Melville, which allowed the processing of 480.000 liters of plasma; the second one is the entry of a new shareholder in Kedrion's share capital followed by a capital increase contribution from FSI SGR and CDP Equity of EUR 66.7 million.
Kedrion closed the 2019 financial year with record high revenues of EUR 808.2 million, representing a growth of 17.5% vs previous year (EUR 687.9 million in 2018).
Strategic investments made in recent years for increasing plasma procurement and the great effort to improve its international market position (80.2% Export) have been crucial to achieving this goal. The US market remains the first market (43.5% of revenues) followed by European Union (31.5% including 19.8% from Italy) and the Rest of the World (25%).
Revenues from the sale of plasmaderivatives were EUR 577.5 million (71.5% of the total) up 12.4% from 2018 thanks to the positive trend of immunoglobulin both in volumes and prices and in particular of the US market that increases by roughly 28% vs previous year.
Instead the plasma segment generated revenues for EUR 209.6 million (25.9% of the total) with respect to EUR 155.1 million in 2018 thanks to higher availability of plasma.
Meanwhile the reported EBITDA 1 increased to EUR 101.3 million (12.5% of revenues) thus doubling its value compared to last year (EUR 46.5 million in 2018).
This result has been possible especially thanks to the sharp reduction of non-recurring costs (-36.6% vs 2018) due to the increased output volumes of the Melville facility.
The Adjusted EBITDA reached EUR 166.1 million (20.6% of revenues) vs 148.7 million of previous year (21.6% of revenues) discounting a slight dilution on marginality due to a greater weight of plasma segment.
Net income for the year touched EUR 38.2 million (4.5% of revenues) in sharp increase vs previous year (11.6 million in 2018).
Excluding the impact of IFRS 162, as of December 31, 2019 Kedrion's net financial position totaled EUR 442.1 million, including EUR 121.5 million in cash. The company has EUR 117.8 million in undrawn credit lines. Kedrion improved its debt-to EBITDA ratios in 2019, attaining a net debt leverage ratio of 2.8 times.
The net working capital decreases from EUR 296.5 million in 2018 to EUR 286.8 million in 2019 reducing the incidence on revenues from 43.1% to 35.5%.
Kedrion made total investments for Euro 88.1 million (EUR 79.9 million in 2018), of which EUR 35.2 related to the project for increasing self-sufficiency of raw material from US. As of December 2019, the Company's network included 29 plasma centers.
1 Including IFRS16 impact of 9.5million
2 As of December 31 2019, the net financial position including the impact of IFRS16 amount of EUR 516.5 million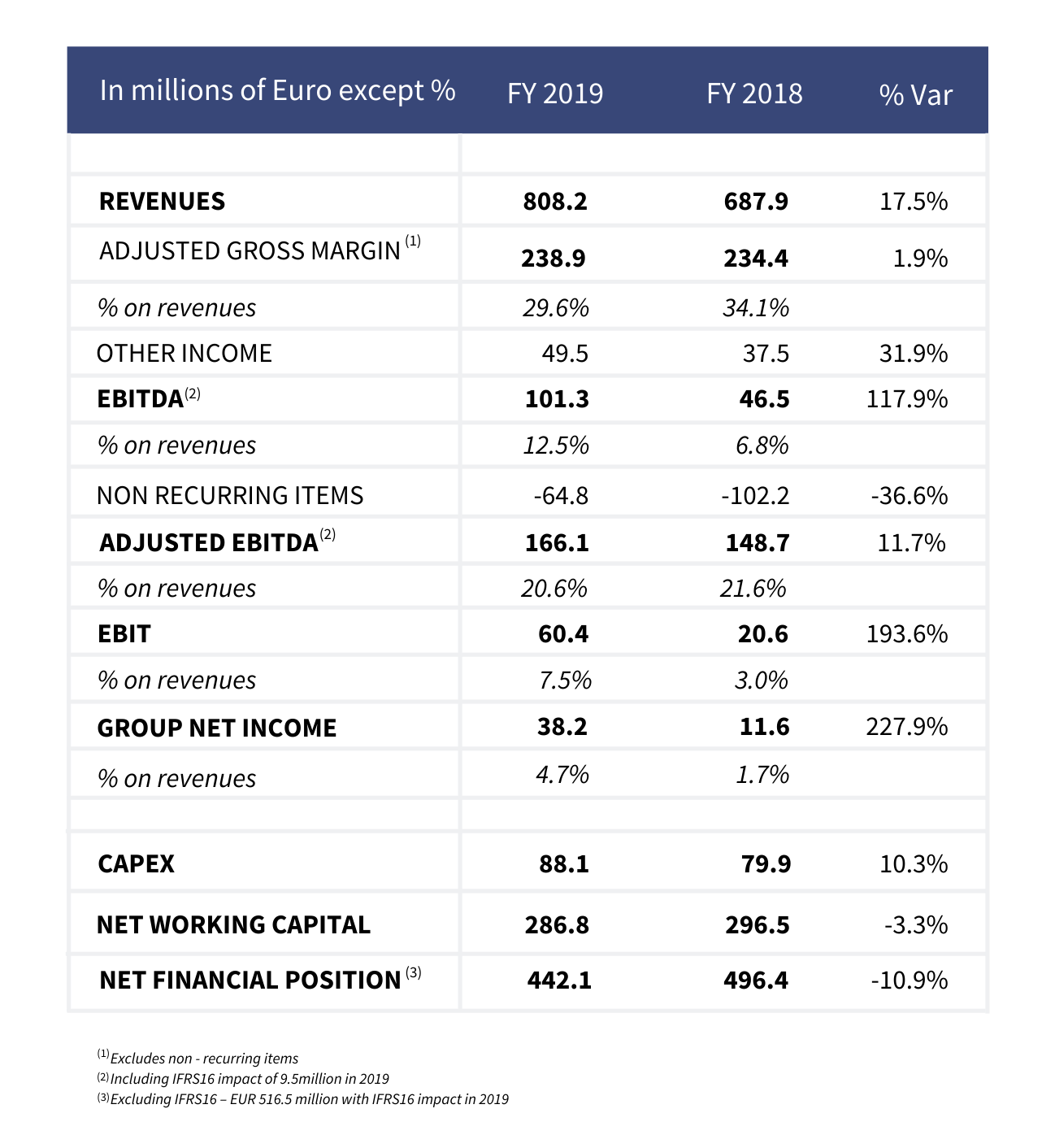 The individual and consolidated financial statements for the year ended 31 December 2019 will be submitted for approval of the Annual General Meeting of Stockholders by 27 April 2020.
For further information, please write to [email protected].
About Kedrion
Kedrion is a leading biopharmaceutical company that specializes in the development, production and distribution of plasma-derived therapeutic products for use in treating serious diseases, disorders and conditions such as immune system deficiencies and coagulation disorders. The Company operates through a fully integrated business model from the collection of plasma in its own centers in the United States and Hungary to fractionation and production in its manufacturing facilities located in Italy, Hungary and the United States. Headquartered in Castelvecchio Pascoli (Italy), Kedrion has over 2,500 employees and a commercial presence in approximately 100 countries worldwide. Kedrion places a high value on the welfare of those who benefit from its products, as well as on the people and the communities it serves. Additional information about Kedrion can be found at kedrion.com.