Castelvecchio Pascoli (Lucca, Italy), 16 March 2021 – The Board of Directors of Kedrion S.p.A., a biopharmaceutical company that specializes in the development, production and distribution of plasma-derived therapies and in the collection of plasma, has today approved the draft individual financial statements and the consolidated financial statements for the fiscal year 2020.
The following key figures are on a consolidated basis.
The year ended December 31st 2020 generated a turnover for the Kedrion Group of EUR 697.2 million (EUR 808.2 million in 2019) corresponding to a decrease of 13.7% compared to the previous year due to the negative impacts caused by COVID-19, both in terms of reduced hospital treatments and plasma availability.
Despite these difficulties, which have affected the entire plasma sector, Kedrion Group consolidated its international positioning through an integrated business model that allowed it to achieve turnover in about 100 countries, with an export share that stood at 78.5% in 2020.
The United States remains the first market thanks to a share of 37.3% of turnover, followed by the European Union with 35.7% (Italy at 21.5%) and the Rest of The World with a 27.0% share.
Revenues from plasmaderivatives segment were EUR 579.8 million (83.2% of the total) up 0.4% from 2019 thanks to the positive trend of immunoglobulin both in volumes and prices. The US market increased by roughly 5% compared to previous year with other markets growing especially in Europe (Poland, Austria and Portugal) and Turkey.
Kedrion limited the COVID-19 impact on its plasma supply approximately to 18% decrease. This reduction in availability of plasma made Kedrion secure its facilities first for production needs which led to a reduction in sales of plasma to third parties, generating a segment turnover of Euro 94.3 million compared to Euro 209.6 of the previous year (-55%).
Revenues from the other segment, related to the sale of synthetic products and production for third parties, were EUR 23.1 million with a 9,6% growth over 2019 thanks to Nuwiq, the recombinant factor VIII.
The reported EBITDA1 reached EUR 95.9 million with a profitability increase from 12.5% in 2019 to 13.8% in 2020 despite all the negative impacts linked to COVID-19 which affected, both sales and non-recurring costs (where EUR 40.6 million of non-recurring costs linked to COVID-19 was registered). If we depress in the non-recurring costs the impact of COVID-19 they have been decreased by 65% taking the EBITDA pre COVID-19 costs to EUR 137M.
The Adjusted EBITDA reached EUR 160.1 million (23.0% of revenues) vs 166.1 million of the previous year (20.6% of revenues).
Net income for the year is around EUR 6.0 million down with respect to the previous year (EUR 38.2 million in 2019) with a negative impact on FX as a consequence of a higher volatility caused by COVID-19.
Excluding the impact of IFRS 162, as of December 31, 2020 Kedrion's Net Financial Position totaled EUR 507.1 million, including EUR 100.6 million in cash. The company has EUR 106.2 million in undrawn credit lines. Kedrion maintains its debt-to EBITDA ratios in 2020, obtaining a net debt leverage ratio of 3.41x.
Kedrion made total investments for Euro 100.5 million (EUR 88.1 million in 2019), of which EUR 24.9 are related to the project for increasing self-sufficiency of raw material from US (as of December 2020, the Company's network included 27 plasma centers) and EUR 22.8 for the strategic project of a new immunoglobulin 10%.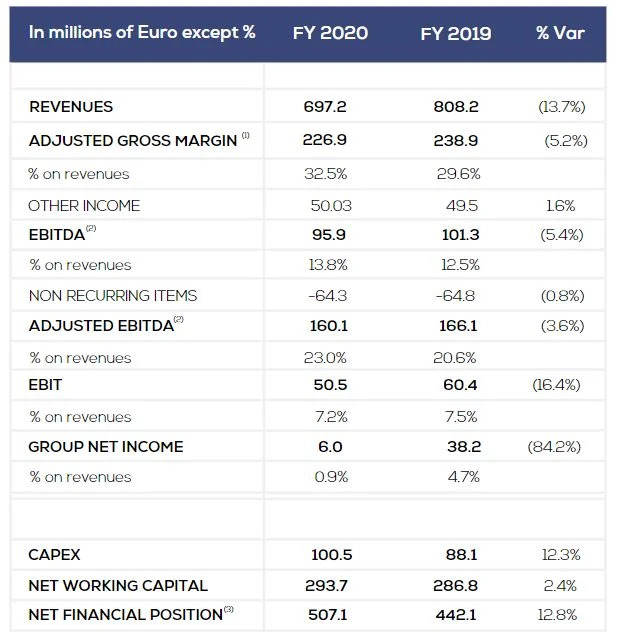 1. Excludes non – recurring items
2. Including IFRS16 impact of 11.6million in 2020
3. Excluding IFRS16 – EUR 598.8 million with IFRS16 impact in 2020